Yoga Bootcamp Fitness
Yoga Bootcamp – The Ultimate Mindful Workout
Yoga Bootcamp is the ultimate mindful workout guaranteed to challenge & empower both the beginner and seasoned athlete. By incorporating Strength-building asana and flow in each unique class, you will sculpt long lean muscles, improve endurance, lose weight and burn more body fat. You are guaranteed to leave each class feeling strong, balanced and relaxed, both inside & out.
Join Mary Lou in this fun & supportive series designed to find your inner warrior. Each class is designed to be different, fun and challenging using Mary Lou's proven training methods from yoga, strength training, balance and core building exercises.
Check it out:
ToneUp 2 Fitness
5335 N Harlem Ave Chicago
Register to attend.
---
About the Location: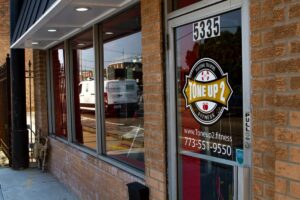 ToneUp 2 Fitness is an Independently owned and operated Private Training Studio located at 5335 N Harlem Ave near Norridge in Chicago. All levels are welcome to attend.
Plenty of free neighborhood parking is available.