FAQ's: SUP classes

Location:
SUP Yoga group classes accommodating up to 10 of your friends is located at Kayak Chicago's original Montrose beach location.
Private SUP with your PUP classes are located at North Shore Yacht Club in Highland Park.
Semi-Private Group SUP classes can be at either location, please inquire to book your group's class.
What to wear:
Dress to get wet! Any swimwear is appropriate for SUP classes with Mary Lou. Just opt for synthetic fabrics. Sunglasses, hats are fine but only if they're tethered to you. All other personal belongings like bags, purses, towels and shoes can be safely left behind inside our storage locker.
Will I get wet?
Yes. Expect to take a swim or two. It's part of the fun!
Weather
Class cancellations due to strong weather sometimes occur – and the instructor makes that call two hours before scheduled class time. In the event of a cancellation, you will be contacted via email or phone. Classes are never cancelled for "chance of rain" weather predictions. If we cancel due to weather, you will receive a rain check to reschedule for another date of your choice – or a full refund.
What is included?
We offer: Full-on high quality gear rental; a board tailored to you, paddle and leash as well as a PFD (Personal flotation device). Paddle instruction from Mary Lou who is a L2 ACA accredited instructor. This means you are actually going to learn to paddle from a pro and really get why this sport is so closely linked to yoga.
Do I need to know how to swim?
We do ask that you are comfortable in the water and are able to swim. You'll be wearing a PFD at all times, and will also be tethered to your board with a paddle leash.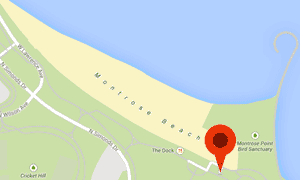 Montrose Beach in Chicago
If your class is located at Montrose beach, we'll meet for class and sign up at Kayak Chicago's large blue/white rental building – located east of the Dock Restaurant. Arrive at least 15 minutes before class to register. There is plenty of free and paid parking nearby – but this is a very busy beach – especially in the summertime. So arrive early with plenty of time to secure your space – or park less than a mile away on Montrose ave and ride your bike in!
Please note, there is no physical address for the beach building – You can enter "the Dock" into your GPS, and you will be within steps of the Kayak Chicago rental building – look for the large white dome, you can't miss it!
Cancellations:
Cancellations must be made at least 7 days prior to your scheduled class for a full refund.
What is the age limit?
18 or older.
Do I need to know how to paddleboard?
No. And you will surprise yourself how quickly you learn how to stand up on your board, paddle in a straight line as well as turn your board. Just paddling your board is an excellent workout. You'll also find the progression of yoga and balance techniques you learn will get you very comfortable on your board.
This still sounds very advanced. I'm still not sure about this..
As adults, it can be very intimidating to try something totally new. But just like the wonderful philosophy of Outward Bound organization, putting yourself into an unfamiliar setting, like the lake, and introducing a challenge, like Paddleboard Yoga, invites true growth – on every level. I can tell you it may not be the easiest thing you've ever done – but anything that involves standing up on water is more than worth it.
See you on the beach!
If you have anymore questions, please don't hesitate to contact the instructor directly. You should get a response within a day or two.