We are all more than one category in life..
Change happens, and if we're open to it, good things can definitely arise from life's challenges.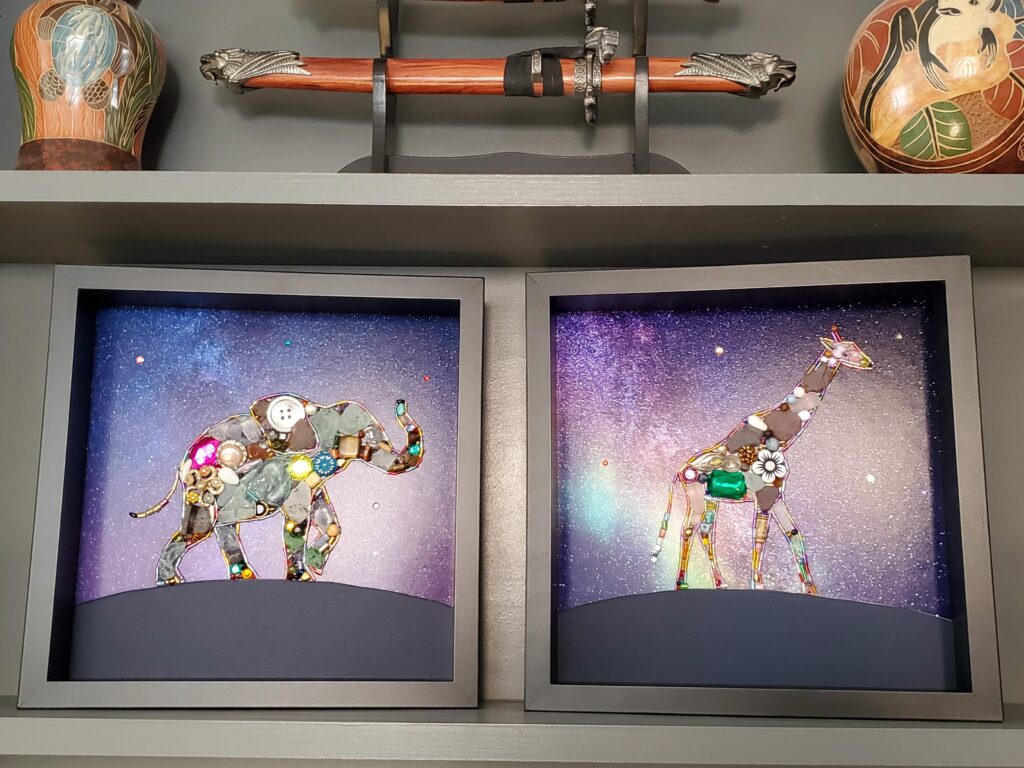 It sometimes seems both a very long and short time ago, but at during the initial long days of the pandemic I rallied myself to fill my days with something I've always wanted to do for a very long time – but never made time for.
I began to make art.
Now, I've always defined myself as an artist. I've been freelancing as a web and graphic designer since the late 90s. Design brings me a great deal of satisfaction – this entire website was created and is maintained by me – as are more than a few small & large websites I count as clients.
But back to the art – true art is an inception, a seed that forms in the mind and asks to be born. The only task is the artist must believe in herself enough to nurture that seed – and create something from an idea, a thought, an inspiration.
I have found such a joy creating mixed media collage art – Wildlife and sea life crafted from upcycled elements such as sea glass, vintage jewelry, buttons and beads of all types.
To be a part of a vibrant artist community online, I now sell my artwork full-time as a juried Artist on various Facebook auction groups, who cater to collectors and lovers of all kinds of art.
The summer of 2022 I had my first gallery show at a local neighborhood gallery, Triple R Gallery – what a thrill! I've also booked my first in a series of outdoor juried fine art shows.
Naperville Fine Art Fair this past June 2023 was an ultimate validation of all my hard work to date.
This fall I was just recently invited to Barrington's 'Art in the Barn' Fine Art fair – I'll be there all weekend Sept 23-24th, Saturday – Sunday on the grounds of Advocate Good Shepherd hospital.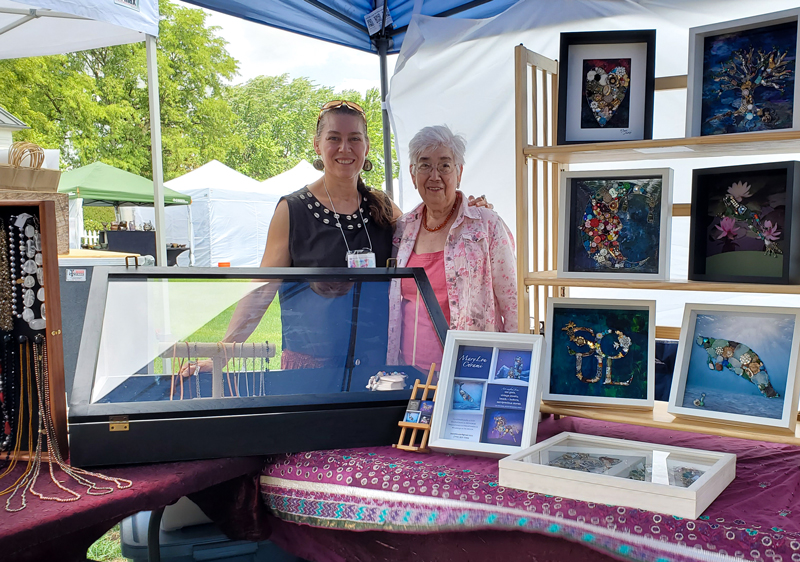 To make art for the love of making art – that is my ultimate goal. I've discovered a new joy in my life making each piece of artwork. I love finding cast aside or broken jewelry and repurposing it into something beautiful, like a sea manatee or a Narwhal made from sea glass and rhinestones.
It brings me joy. And I wanted to share my joy with you – my students and friends.
Have a peek at my official artwork website MaryLouCerami.com – and let me know what you think!
And follow me on Facebook, Instagram and Etsy too 🙂
Good Vibes!
www.maryloucerami.com
https://www.etsy.com/shop/goodvibesbutterfly/>
https://www.instagram.com/maryloucerami/
https://www.facebook.com/mloudesign